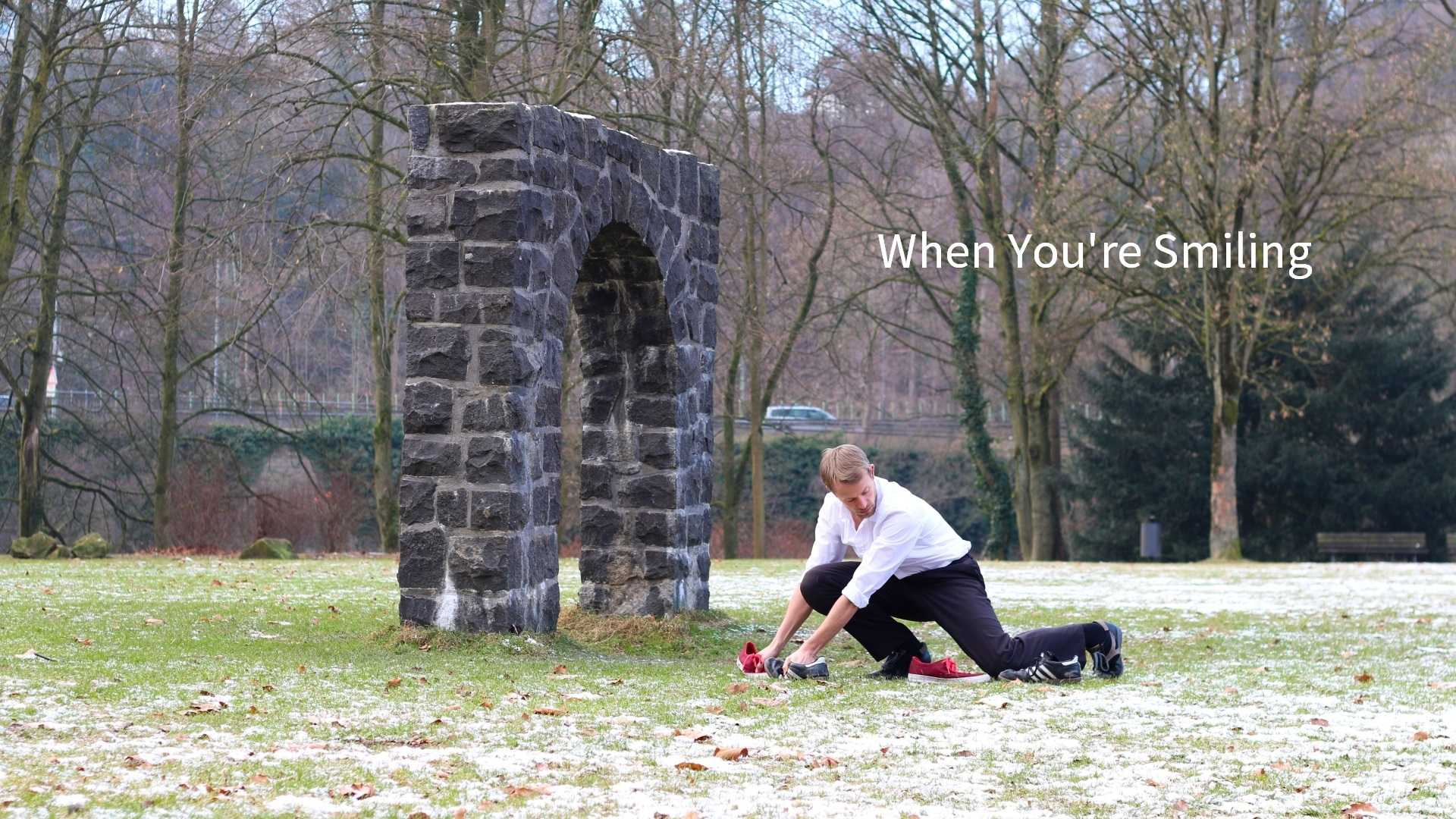 World Première: 24th of April 2016
A man by unknown identity goes for a walk on a meadow and carries two pairs of shoes. By moving them through space he begins to create situations in which the shoes are set in various relations to each other. Slowly the man finds himself in a composition of images, becoming part of a story that remains to shift between reality and fantasy and makes him reveal an archive of personal memories and dreams.
When You're Smiling was created as a dance-theatre work, directed by Jan Möllmer and performed by Uwe Brauns. After showing the creation on stages as well as in site-specific spaces Brauns and Möllmer decided to bring it into a visual context enriched through elements of cinematography.
When You're Smiling was released as a first film version in the beginning of 2017 and is in a work in progress for a further film creation and development.
Credits
Live Version
Direction & Choreography: Jan Möllmer
Performed by: Uwe Brauns
Sound arrangements: Jan Möllmer
Music: Louis Armstrong
Production: Peculiar Man
Film Version
A Film by: Uwe Brauns & Jan Möllmer
Direction: Uwe Brauns & Jan Möllmer
Choreography: Jan Möllmer
Camera & Video Editing: Jan Möllmer
Music: Louis Armstrong, Nature Sounds
Production: Peculiar Man
Tour Dates
2017:
9th of September 2017, TalTonTheater, Wuppertal, Germany
2nd of September 2017, Café Ada, Wuppertal, Germany
25th of March 2017, Swallowsfeet Festival, Brighton, Germany
2016:
27th of November 2016, Refugee Camp Overhammshof, Essen, Germany
25th of October 2016, Pina Bausch Theater, Essen, Germany
11th of September 2016, Teatro Pubblico Pugliese, Lecce, Italy
24th of April 2016, Zeche 1, Bochum, Germany