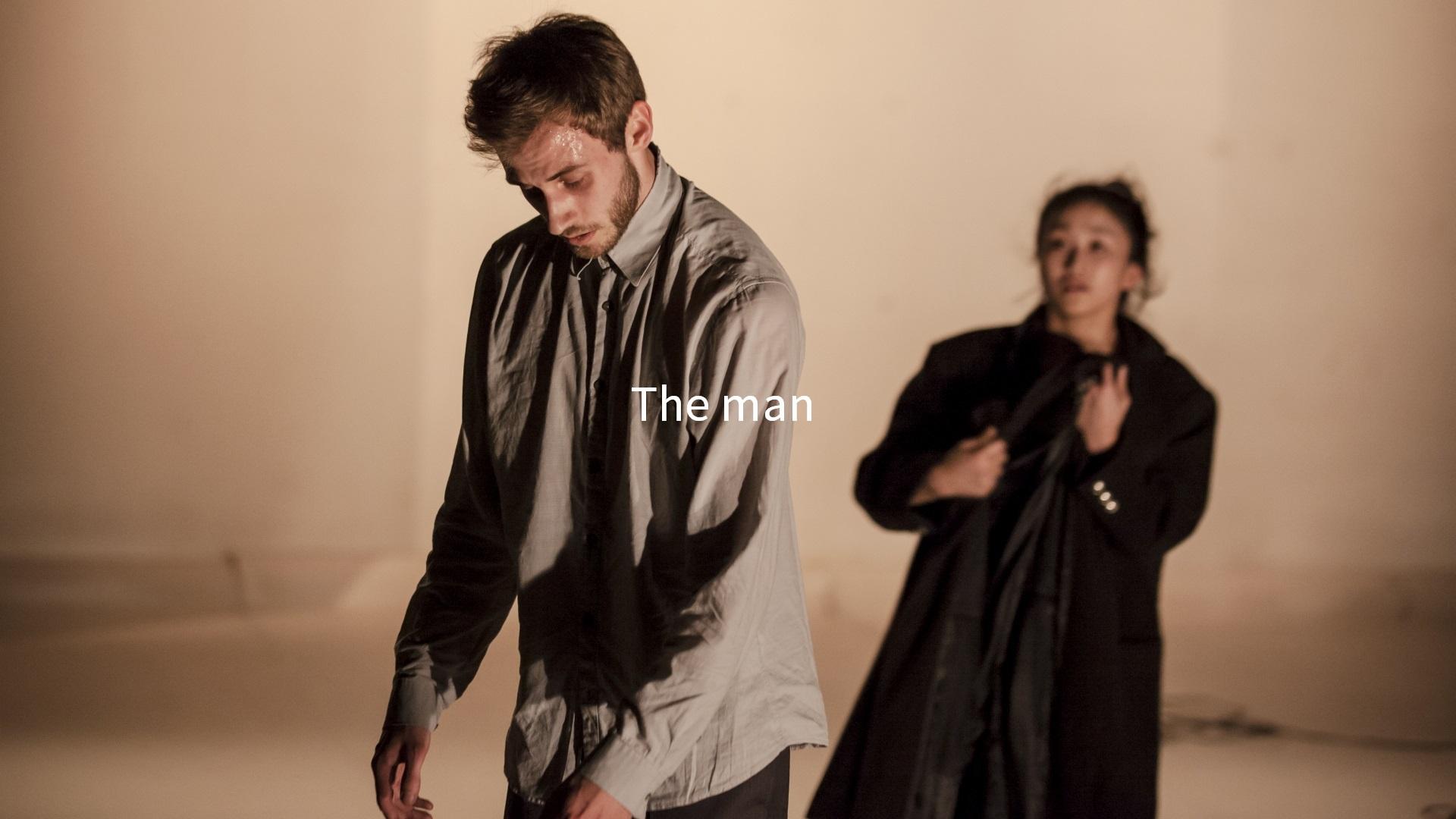 Feature-Length World Première: 10th of November 2015
A man and a woman find themselves in a composition of images, becoming part of a story that remains to shift between reality and fiction. Surreal atmospheres arise in which the couple goes on the search for the identity of the other. The story becomes a journey through different times, showing the differences and similarities of human beings and talks about the essence of small and seemingly unimportant things in life.
This creation concentrates on a hyperrealistic aesthetic anchored in a concrete set: a room filled with a small number of everyday objects as a table, telephone, coat and cigarettes. In these, the choreographers create an unstable universe that defies the logic of time and space.
The man is the first collaboration and feature-length work of Jan Möllmer and Tsai-Wei Tien. It shows an encounter of two artistic views which find their similarities and disparities to a new form. Together they created The man in 2014 as a five minute duet which got awarded numerous awards in Germany and Asia as for example at the 3rd Beijing International Ballet and Choreography Competition, China.
After touring their short work, Möllmer and Tien decided to bring their collaboration further and developed The man into a full-evening work that got premiered in November 2015 in Bochum, Germany, and toured within Europe as well as in China and Taiwan in 2016.
Credits
Direction: Jan Möllmer, Tsai-Wei Tien
Choreography and Dance: Jan Möllmer, Tsai-Wei Tien
Sound composition and arrangements: Jan Möllmer
Music: Maurice Ravel, Clara Rockmore, Janis Joplin, Simon and Garfunkel, Roger Troutman
Production: Peculiar Man
In cooperation with: Renegade
Awards
2016:
Nomination for the 15th Taishin Arts Award of the Taishin Bank Foundation for Arts and Culture, Taiwan
2015:
Bronze Award at the 3rd Beijing International Ballet and Choreography Competition, China
2014:
Newcomer and Audience Prize at International SoloDuo Festival, Cologne, Germany
2. Prize and Audience Prize at contact.energy Festival, Theater Erfurt, Germany
Tour Dates
Feature-Length Version
2018:
27th of October 2018, Officine Caos, Festival Differenti Sensazioni XXXI Edizione, Turin, Italy
29th of March 2018, ARGEKultur, 18. Salzburger Performance Tage, Salzburg, Austria
4th of August 2018, Village Square of Vathy, Ithaca, Greece
2017:
5th of November 2017, Katakomben-Theater, Essen, Germany
7th of October 2017, Opera House, Wuppertal, Germany
9th of September 2017, TalTonTeater, Wuppertal, Germany
2nd of September 2017, Café Ada, Wuppertal, Germany
9th of April 2017, Zeche 1, Bochum, Germany
2016:
12th - 14th of August 2016, Xinyi Branch Performance Hall, Taipei, Taiwan
5th of August 2016, Wei-Wu-Ying Center for the Arts, Kaoshiung, Taiwan
9th of January 2016, Zeche 1, Bochum, Germany
2015:
10th of November 2015, Zeche 1, Bochum, Germany
Short Length and Solo Version
2015:
18th of October 2015, Katakomben Theater, Essen, Germany
10th - 17th of July 2015, National Center for the Performing Arts, Beijing, China
27th of June 2015, Theater am Aegi, Hanover, Germany
19th of June 2015, performance art depot, Mainz, Germany
25th of February 2015, Pina Bausch Theater, Essen, Germany
2014:
06th of November 2014, Colosseum Theater, Essen, Germany
27th of September 2014, Barnes Crossing, Cologne, Germany
25th of February 2014, Theater Erfurt, Erfurt, Germany
2013:
October 2013, Fabrik Heeder, Krefeld, Germany
2nd of May 2013, Café Ada, Wuppertal, Germany
28th of February 2013, Pina Bausch Theater, Essen, Germany